Over the years, industries all over the world have been steadily adopting and integrating IoT, or Internet of Things, into their operations. IoT was sparked by the heavy reliance of the fourth industrial revolution on data. The fourth industrial revolution is simply borne out of the industries' need for digitalization, streamlined process, and interconnectivity of the physical, biological, and digital worlds.
While the rest of the world was forging ahead with IoT, the Philippines was a starter due to its lacking infrastructure and poor connectivity. According to Huawei's 2020 Global Connectivity Index (GCI) report, the Philippines was ranked 59th out of 79 countries. But when the pandemic hit, the Philippines was forced to adapt. Just last February 2021, based on the report of the United Nations Conference on Trade and Development's Technology and Development Report, the Philippines was touted as second to India in terms of readiness index performance compared to per capita GDP.
What Does This Mean to Machine Diagnostics
Machine diagnostics using various CBM technologies such as oil analysis and vibration analysis is not new to the Philippine industries. However, companies have encountered mounting challenges to standardize knowledge and capture machine conditions in real-time at multiple locations and on a larger scale. With the industries' challenge in interconnectedness and digitalization, the gaps were emphasized and felt during the pandemic when plant sites had to cut back on the number of personnel who were allowed to go to the plant. Without technologies and infrastructure that support IoT, artificial intelligence, online sensors, cloud computing, analytics, big data capture, industries face challenges in solving complex problems, tracking program success, standardizing work processes, and generating high valued data. So how do we make our facilities ready for Industry 4.0? Here are some approaches we can adapt for better data capture, machine condition monitoring, and failure prediction:
1. Process Standardization
If your organization is facing a high turnover rate in the maintenance department, you are not alone in this problem. It is one of the many challenges facilities face that heavily affects how assets are maintained if processes are not standardized. One way of addressing this is through the use of a program manager. Cornerstone Chemical, for example, utilizes LubePMTM as its lubrication program manager which came with Noria's Lubrication Program Development. This software allows for the auto-generation of tasks that are aligned to ICML 55.1 and are uniquely created according to the application and requirement of an asset. It has features that allow you to see the hardware and lubricant change status and has a dashboard that allows stakeholders to get a good look at the status of improvement initiatives.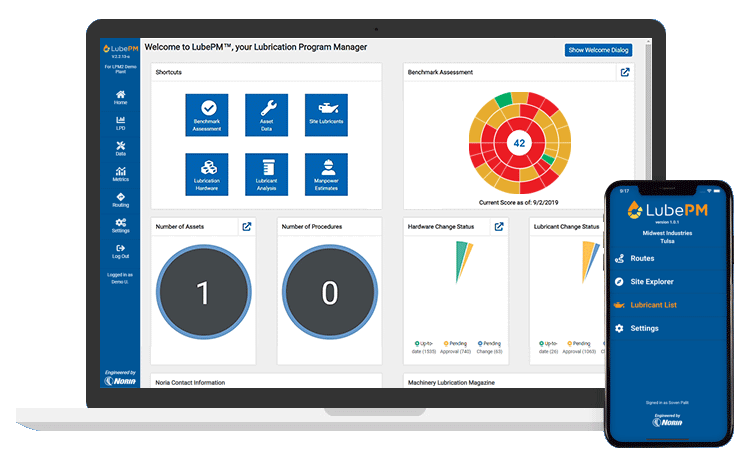 2. Capturing Information Real-time
For maintenance and operations engineers to make informed decisions they need information that is easily accessed whenever and wherever possible. However, access to real-time information has always been a challenge and this gap has been tremendously felt during the pandemic. While some plants have the financial capacity to invest in onsite diagnostic tools oftentimes other facilities subcontract their condition monitoring programs with third-party laboratories and service providers which are hindered by logistics and geographical challenges are the issues. Sending samples for testing or subcontracting an onsite service will usually take days.
3. Onsite Tests Kits and Tools
There are many tools in the market for onsite tools used for vibration analysis, infrared inspection, and ultrasound and some of them have advanced data collection and analytic capabilities which makes data interpretation easier. For instance, some vibration analyzers come with an analysis program that is equipped with band analysis capabilities that can analyze singular frequency or fault report production capabilities.
4. Online Monitoring Tools
For real-time display of the critical information, you will need to install online condition monitoring tools. Some tools can provide instant alerts which can also be viewed at your office and are equipped with software that can analyze complex issues and pinpoint the specific issue that is critical to the machine performance that might otherwise go unnoticed until a catastrophic failure occurs.
5. Onsite Laboratory
However, having online machine condition monitoring tools is not always possible and some current technologies still have limitations that have yet to be overcome. For some facilities, establishing an onsite laboratory is the way to go. Typically, oil analysis equipment price ranges from $ 10,000.00 to well over $150,000.00. On top of that, training, operating, consumable costs must also be considered. On another hand, you may also opt to buy certain equipment you deem the most critical for your plant. For example, you can invest in tools and equipment suitable for cleanliness (particle counter) and viscosity (viscometer) and you can partner with a third-party laboratory to conduct the rest of the tests. It also helps to have this partnership as third-party laboratories are equipped to conduct much more thorough analyses.
6. Onsite Service Contractors
Apart from the financial hurdle, one of the major challenges onsite laboratories face is having well-trained people to maintain the laboratory. Without expert chemists and analysts, analyses and recommendations may not fully capture the issue of the machine, and equipment may go poorly maintained. You can contract out laboratory operations to contractors. Some companies do not have a reliability group and they subcontract these programs to onsite service contractors.
7. Asset Management Software
When there is a high turnover rate within the maintenance department, another challenge is with the analysis portion. This hurdle can be overcome by using intelligence software that incorporates diagnostics. Intelligence software is equipped with adaptive rules which allow users to properly conduct trending and diagnose equipment issues. The data collected goes to a cloud server or centralized location and will be transformed through artificial intelligence (AI). AI allows powered computing using algorithms that mimic human intelligence. While this technology is still in its infancy stage this is definitely a great enabler.
When capturing and reporting data, maintenance personnel also face the challenge of putting all the data in one place making them accessible and making correlation possible. In most plants, the data collected from oil analysis are stored separately from the data collected from vibration analysis, infrared inspection, and so on, which can cause delay.
8. Knowledge Standardization
A successful reliability program requires the marrying of various techniques and knowing how to use them. To make your program sustainable, employees need to get trained and continuously learn the current trends in condition monitoring techniques such as oil analysis and lubrication training, vibration analysis, infrared inspection training, and ultrasound training.
The Future of Condition Monitoring
Despite being in its infancy stage, IoT has shown solid results and more improvements will come over the ensuing years. It is predicted that the global IoT market is going to grow to amount to USD 1,463.19 Billion by 2027. IoT in the field of predictive maintenance and condition monitoring has an exciting future ahead.