Events Booking - Events Slider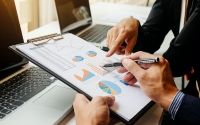 10-25-2021
8:00 am
- 10-30-2021
5:00 pm
Go beyond the traditional lubricant and lubrication subjects and undertake a holistic approach toward developing, implementing and managing a world-class lubrication program with the Machinery Lubrication Engineer (MLE)® course.
11-03-2021 - 11-06-2021
Lubrication must be done right by choosing the right lubricant applied at the right time, right place, and right quantity. Learn the very best practices for applying, managing, and implementing lubrication in your facility from Noria's resource speaker in the Philippines. The outline of this training is in accordance with ISO 18436-4. Become empowered to trust your own decision. Complete this training and be an ICML certified Machine Lubricant Analyst Level I.
12-14-2021 - 12-18-2021
Once you have gained confidence in spectrum analysis, it's time to level-up your capabilities and learn more about signal processing, time waveform and phase analysis, cross-channel testing, machine dynamics, and fault correction. This course will not only help you advance your capabilities in detecting complex faults but you will also learn how to set up and run a successful vibration program and mentor the junior analysts in your team. Gain confidence and become certified to ISO 18436-2 Category III via the internationally respected Mobius Institute Board of Certification [MIBoC]™. The MIBoC certification is accredited to ISO/IEC 17024 – there is no higher standard.