Career readiness is a big factor for graduating students who are looking into entering leading industries and organizations in the country. Having knowledge in industry best practices and knowing what to expect will dictate the success of their career.
Having a qualified and trusted training institution that has been working with these industries for years will surely give you a headstart by helping you learn:
the best practices in machine maintenance
the standards for a safer and more efficient plant
relevant know-how on how to avoid unscheduled machine breakdown
Ensuring quality and sustainable output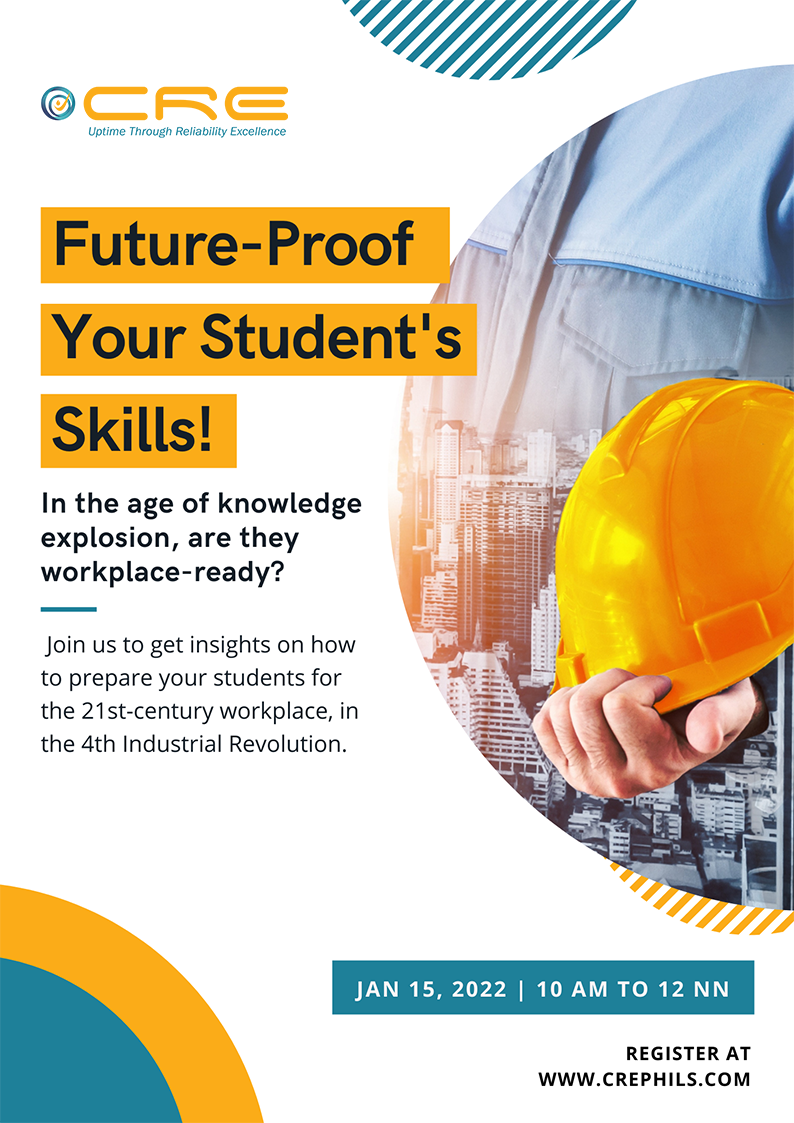 Another schedule is set to be conducted on February 16, 2022, at 3:00 - 5:00 PM PHT. With the current trends and future outlook, are we really giving our students the right tools to survive and thrive? Join us as we invite you to join the conversation and learn about the relevant insights to help your students prepare for the 21st-century workplace!
This webinar is designed for:
College of Engineering Administrator
College of Engineering Director
College of Engineering Dean
Technical School Administrator
SHS-STEM Principal/ Coordinator

Webinar Speaker
Juan Bautista L. Lee II is an In-house preventive maintenance expert for the Center for Reliability Excellence, a Noria franchise partner located in the Philippines. He is certified as a Machine Lubrication Technician Level II and a Machine Lubricant Analyst Level III through the International Council for Machinery Lubrication and as a Certified Maintenance & Reliability Professional through the Society of Maintenance & Reliability Professionals.
International Certifications International Council for Machinery Lubrication
MLT II (Machinery LLubricationTechnician Level II)
MLA III (Machinery Lubricant Analyst Level III)
STLE (Society of Tribology and Lubrication Engineers)
Certified Vibration Analyst Category 1
CMRP (Certified Maintenance and Reliability Professionals) from the Society of Maintenance and Reliability Professionals
Bachelor's Degree in Mechanical Engineering from the University of British Columbia
Master's Degree in Entrepreneurship from the Asian Institute of Management

About CRE Philippines
CRE Philippines aims to empower industries to achieve uptime. Due to a major lack of comprehensive predictive and reliability-centered maintenance procedures in the field of machine diagnostics in the Philippines, CRE Philippines (Center for Reliability Excellence Laboratories Corp.) was founded, with Focuslab LTD. in Thailand as a partner. After a few years, the firm has expanded its customer base, assisting various sectors in achieving their reliability goals.
CRE provides services to these industries:
Mining
Power
Oil & Gas
Cement
Paper
F&B
Marine
Ports
Utilities
Academe
Technical
Register and secure your seat now!