CRE Philippines' Reliability Webcon 2022 and Reliability Quiz Bee started on a high note last March 10, 2022. Reliability Webcon 2022 is an event that aims to provide knowledge about machine reliability, asset management, and condition-based maintenance.
Mr. Juan Bautista L. Lee II, the Managing Director of CRE Philippines, warmly welcomed esteemed guests and participants who are maintenance and reliability professionals from various industries. The event featured speaking engagements from industry experts from different parts of the world. Despite the constraints the pandemic has given, CRE successfully ushered the event that aims to help maintenance and reliability professionals to further improve their knowledge and skills.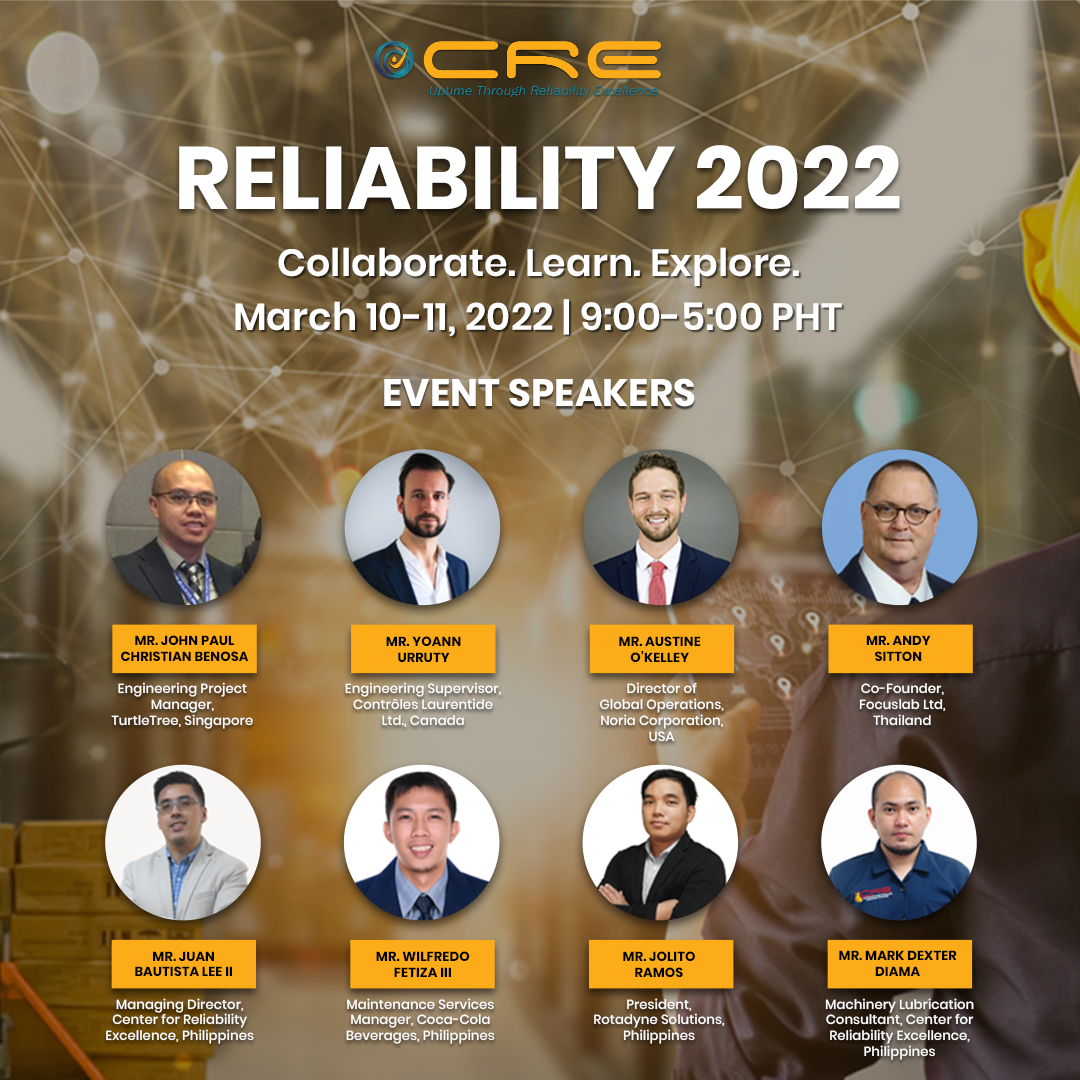 With this year's event tagline, Collaborate, Learn, Explore, Reliability WebCon 2022 paved the way to connecting industry professionals, strengthening partnerships, and building new ones. Engr. John Paul Christian who was the keynote speaker set out the central theme of the event. He was then followed by various guest speakers who gave their insights on industry difficulties and trends bridging the gap the pandemic has created.
Yoann Urruty of Laurentide Controls talked about digital transformation in predictive maintenance. Noria, USA representative Austin O'Kelley tackled "How to Cost-Justify Your Lubrication Program". Andy Sitton, the co-founder of Focuslab Ltd., gave insights on the developments in basic varnish measurements. Meanwhile, Engr. Jolito Ramos of Rotadyn Solutions discussed the fundamentals and growing trends in vibration analysis. The first day of Reliability Webcon 2022 ended with Juan Bautista L. Lee's discussion on keys to achieving machine reliability.
To keep the panelists and attendees safe from COVID-19, the conference was conducted online. Workshops on the various machine reliability practices were conducted by renowned industry professionals. A notable white paper entitled "Five-Pronged Strategy to Implementing a Successful Lubrication and Reliability Program" was also presented by the Maintenance Services Manager of Coca-Cola Beverages Philippines, Inc., Wilfredo Fetiza III. CRE also offered a scholarship on Machinery Lubrication or Oil Analysis Training to a lucky winner.

Reliability Webcon 2022 Day 2 started with Oil Analysis Program Management Workshop by CRE Philippines's Mark Dexter Diama. CRE Philippines also organized Machine Reliability Quiz Bee 2022 for Mechanical Engineering students. Technological University of the Philippines, Lyceum University of the Philippines, Polytechnic University of the Philippines, Pamantasan ng Lungsod ng Maynila, Central Philippine University, Central Mindanao University, Don Mariano Marcos Memorial State University, STI West Negros University, and Manuel S. Enverga University battled it out for the cash prize. Olive Barba from DMMMSU won the championship, followed by 1st Runner Up Krisleen Frias of TUP and 2nd Runner Up Kristian Diño of MSE UF. Machine Reliability Quiz Bee covered general topics on lubrication practices, CBM technologies, asset management, and machine reliability.